Website Parts
In this section, you will learn:
Please watch the video and read the information below to start learning.
Video of Website Parts
What are Website Parts?
As we learned in the previous module, search engines allow us to find websites that we are interested in. When searching for "dc public library hours", we received a number of websites or search results that may or may not contain the information we need.
To find out when the DC Public Library branches are open, we will need to visit some of web pages and look for the information on the web page. For example, by visiting the first search result for "dc public library hours", we will be taken to the DC Public Library's Hours and Locations web page as shown in the picture below. From this web page, we can find the hours information we were looking for.
Picture 1. DC Public Library Hours and Locations page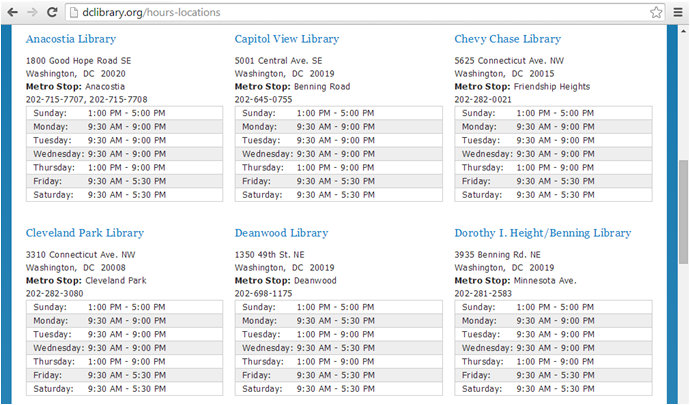 Finding the information you are interested is not always as easy as the example above. To find information on web pages, knowing the common parts of websites will help you navigate websites more easily. Keep in mind that while websites can be very unique, websites usually have one or more of these common parts. These common website parts are explained and shown in the next sections.
What is the Batman is Awesome! website?
Throughout this module, we will be referring to a fictional Batman superhero website created by a fan to share the love of Batman with the web. This website will be used to show the different parts of websites, and you will have chances to interact with this website. If you cannot view the web page below, you can visit the web page by left clicking here.
Picture 2. Batman Is Awesome Website